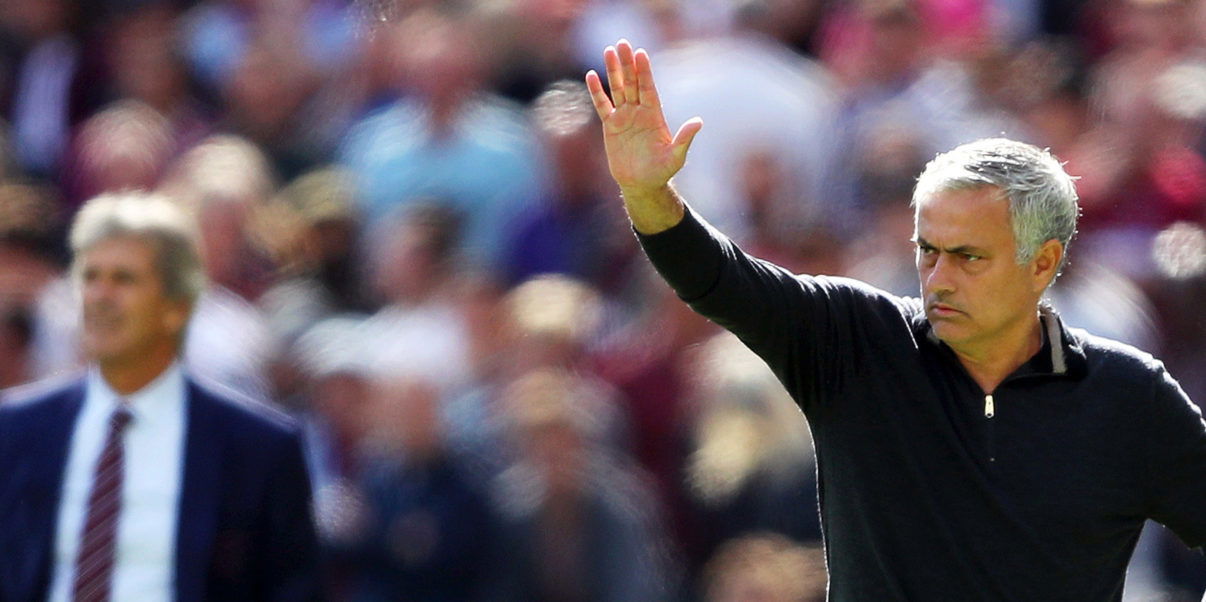 A rival's view on the problems with Manchester United
'Attack, Attack, Attack'- This is what the Manchester United fans screamed at their team as they were 2-0 down against a West Ham side who had been undone by Wolves and Bournemouth at their home ground. For the most part, the United away support has backed Jose Mourinho, chanted his name even when outsiders felt they were hugely reliant on set pieces or strokes of luck to win their away games. Now though, it appears the tide is starting to turn.
I am not a United fan, I have been a City fan out of no choice since 2001. While I must admit I am an enjoying this, my aspiring sports journalist head has started to take over when looking at this Man United team.
It makes sense to begin with yesterday's tactics. Mourinho lined up his side in a 3-5-2 formation. On the whole, there is nothing wrong with this, managers such as Pep Guardiola and Max Allegri have had success with the formation. The issues were more with the personnel in this case. One of the pros of playing three at the back is that you can sacrifice a holding midfielder. But United still played with the slow Nemanja Matic in front of the back three, and he was partnered by Marouane Fellaini and Paul Pogba. Essentially, Mourinho rocked up to a game against a team with clear defensive issues and played a back three with two more disciplined players sat in front.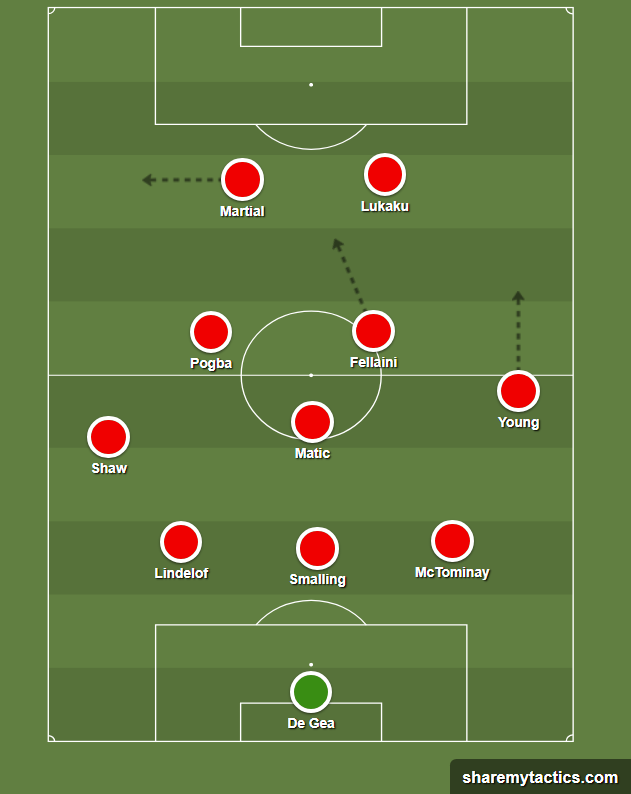 The 3-5-2 can be a good formation, but two things that are needed are midfielders who can cover a lot of ground and quick strikers. Mourinho addressed the latter, but the former was something he didn't.
The other problem with this shape for United is that when they were in the defensive phase, it switched to a 5-3-2. United at times simply could not get out of their half. The midfield and defence were easily pinned back because West Ham took a lot of their touches in wide areas, which meant that the midfield three simply could not get near them and instead had to sit centrally.
Make no mistake about it, this was a defensive structure from Mourinho. This is not necessarily an issue in my eyes, but the main issue is that the structure shows he didn't really do his homework. Manuel Pellegrini has changed his formation at West Ham, but the basic principles remain the same. Pellegrini loves to flood central areas with his midfielders and use the full-backs to create an overlap. Both Arthur Masuaku and Pablo Zabaleta had all day to makes passes and play one-twos with West Ham's deep-lying playmakers.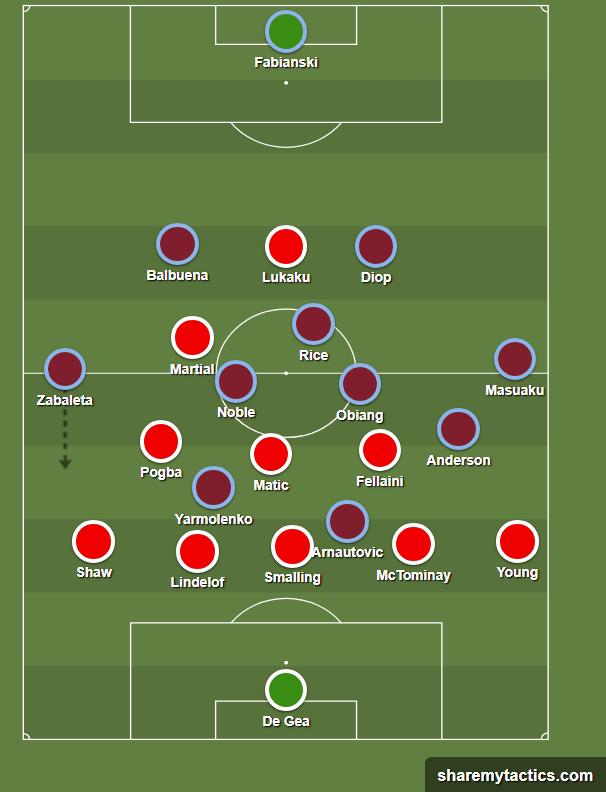 Mourinho was maybe right to cover the central areas and make sure United constantly had someone occupying the wide zone to take care of Pellegrini's overlapping full backs. The main issue for United though was that they simply could not get out. With two central strikers being used, it meant United never really had an out ball. Pellegrini's set-up always floods central areas in the build-up, so we have to question why Mourinho played with a front two. The teams who have beaten West Ham at the Olympic Stadium this year have stretched them in behind. Mourinho's set up allowed them to do none of this.
And this takes me to my main issue with this United team. For a team that has a pretty good squad and a lot of financial power, the way they set themselves up is pathetic. Pep Guardiola, Jurgen Klopp and Maurizio Sarri look at the opposition and look at how they can destroy them, that should be the goal of any top team. Mourinho looks at the opposition and looks at how he can stop them. He went to the Olympic Stadium with a defensive game plan which is simply embarrassing given the resources at his disposal. This wasn't a one-off either, it has become commonplace for United to play like this. His methods have worked for many years, but I think the revival of attacking football and formations with wide play has rendered his methods less effective.
When I look at this Manchester United team, there is just nothing to fear about them. In an attacking sense, this is a tepid team. They play cagey narrow football with no room for pace or creativity, and their fullbacks are just not threatening on the overlap. I don't understand the style Mourinho is trying to implement with this group of players. He switches between 4-3-3 and 4-2-3-1 but he uses wingers who like to cut inside, which creates a lack of space for Paul Pogba to work with in transition. The set up might work if United had fast adventurous full-backs, but they don't.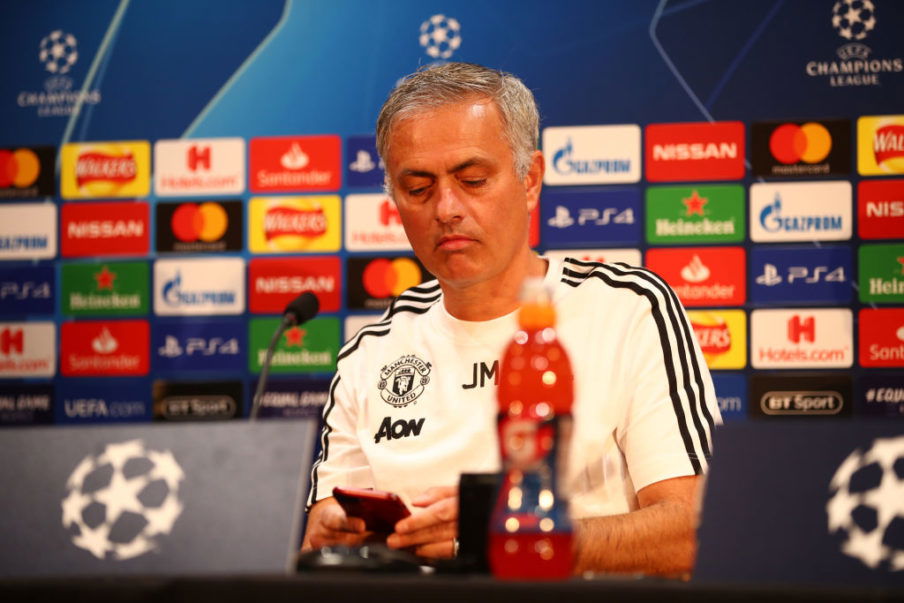 If you look at the other Premier League teams United want to compete with, there is just a clear difference in the message their manager tries to get across. Guardiola wants his side to play possession football, Sarri coaches a 4-3-3 reliant on quick intricate transitions between the midfield three, Klopp coaches a team built to press high and attack with pace, and Mauricio Pochettino coaches a Spurs side built on high pressing and using the full backs to pin teams back. Mourinho's United have no clear style, he can change the philosophy from one week to the next. This is a good thing in some ways, but I feel the lack of a clear message and clear style of play is seriously affecting his team. The other four managers have a plan that they preach every single day, Mourinho doesn't. His pragmatism has won him many trophies, but I feel this is coming to an end.
Off the football pitch, things don't really look much better. Ed Woodward is more worried with signing 'names' than people who actually improve the squad. There were some signs this was changing in the recent summer transfer window as he signed Fred and the little known Diogo Dalot. But on the whole, he just appears to have gone for big players. United seem to care more about promoting their brand rather than focusing on the core values that were built on under Sir Alex Ferguson.
As a Manchester City fan I obviously don't really 'get' the idea of being a big brand, but in the grand scheme of things, does it really matter? Just clinging on to history is quite sad, it was after all what they made fun of Liverpool for over the course of two decades. Man United fans want pleasant football and a clear direction on the pitch. No one cares about how many Instagram followers United have, no one cares about the signing videos. At the end of the day what matters is the on-field product and United are failing here for a variety of reasons.
Mourinho is a huge problem, but so is the direction of the club in my opinion. This is a club more concerned with the brand and being a 'big' club rather than being an effective one. Their galacticos policy has failed, and the lack of an on-field philosophy has left United fans bored and frustrated.
---