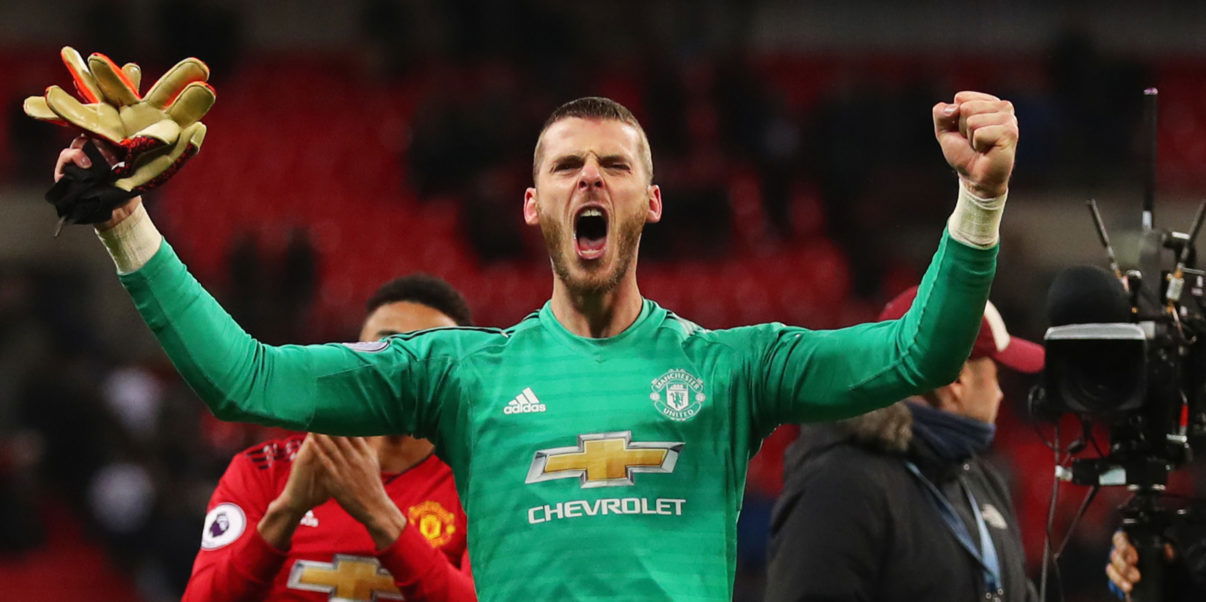 De Gea masterclass earns United a huge win at Wembley
The game started off much as expected, there weren't any fireworks, but two teams who understood just how big this game could be in terms of who the points went home with.
The first chance came after eight minutes, with Heung-Min Son managing to work himself into a good position and play in Harry Winks, who didn't yet have the composure to finish it off.
The first quarter of an hour saw some heavy Tottenham possession, without them overcommitting themselves. United then pressed their way into the game, playing a high line and committing themselves in an attempt to win the ball back.
The first-half chances in such a game are going to be few and far between and so it proved, with Martial managing to get in behind, only for Hugo Lloris to save from a tight angle.
Although for the second quarter of an hour, United had the better of the possession, Spurs remained calm and showed the threat they pose when a ball in over the top was missed by the head of Ashley Young, only for it to hit Dele Alli on the stomach and Harry Kane put it away. The Reds were lucky this time, as Kane was proven to be rightly called offside, it does show, however, that maybe United's back line is not yet the finished product.
There was a worrying moment for Tottenham as Moussa Sissoko, going off for the second time, had to be subbed for Erik Lamela, meaning Tottenham had to switch to their plan B, with Alli moving back into a more defensive position. This was an important point, as Sissoko up until now had been very much in the game, while Alli was allowed to rampage forward, and so it showed not five minutes later.
Manchester United's high-pressure tactics came to fruition when Tottenham came forward, Kieran Trippier and Christian Eriksen exchanged passes before it was cut out and Paul Pogba's keen eye for a through ball was shown as he popped a ball over the top to the terrier-like Rashford, looking hungry the whole half, who pounced on it, took on his defender and finished it into the far corner. It was what the game needed to heat itself up and set up a firecracker second half.
And a firecracker of a second-half it was. Kane opened proceedings and came out firing, forcing two very good saves from David De Gea, who was soon to prove his worth and more. It was then Alli's turn to test the keeper, rising above the defence for a header that the Spaniard got down well to save again.
United were not to be outdone, however, and Paul Pogba proved his attacking worth again, first forcing a save from the edge of the box before bulldozing his way through and just allowing Lloris to get a tip to his chipped finish.
David De Gea had been a little under fire for United's inability to keep a clean sheet and, following on from a poor World Cup too, had been left needing to step up his game to the level it was once at, and step up he did.
Tottenham came forward with barrage after barrage of attacks, United trying their best to frustrate the home side as much possible but Spurs' dazzling play still opened holes in the defence.
It came down to their three-time Player of the Year to save the day, again and again, Alli came in with a shot which he stopped with his foot, Toby Alderweireld shot from point-blank range at the near post and he got a foot to that too. Alli came again and he kept all of them out. At this point, despite a rather leaky defence, United were holding on and very slowly rolling the clock down. Fernando Llorente even came on for Winks, he had a shot from eight yards out, perhaps his lack of match fitness when given time on the ball meant that it was fumbled poorly into De Gea's grateful hands.
Four minutes of extra time were put on the board, Tottenham threw everything forward in search of what would've been their first draw of the Premier League season. Kane, who in any other game would've got a hat trick and maybe more, was denied again as the ball went in time and time again and then, finally for the United fans, the final whistle went.
It is United's first win against a fellow top six side this season and it means that the Solskjaer revolution continues, now proven to be more than a false dawn, after he became the first ever manager of Manchester United to win his first six games since their inception.
Tottenham will rue the fact that they came up against De Gea in such form, when he looked almost unbeatable, something he hasn't looked like being in a while, but at the end of the day they needed to put their chances away and they didn't.
Five things we learned from this game:
Rashford has played himself into the starting line-up of the big games and rightfully so, Harry Winks's inclusion will also be a big boost to him despite the result.
Manchester United could probably use another centre back, someone to command the already decent quality they have, to give them a bit of direction much like the way Virgil van Dijk does at Liverpool
If Tottenham want to be considered title contenders, they need one or two more players to complete them, including a player that offers them a plan B.
Pogba is much much better when played in an attacking position, but also seems a lot happier to be a team player these days, making a defensive impact also.
Never count out David De Gea, he is one of the best keepers in the league, maybe even the world and he has it in his locker to be a hugely important factor when called upon.
---