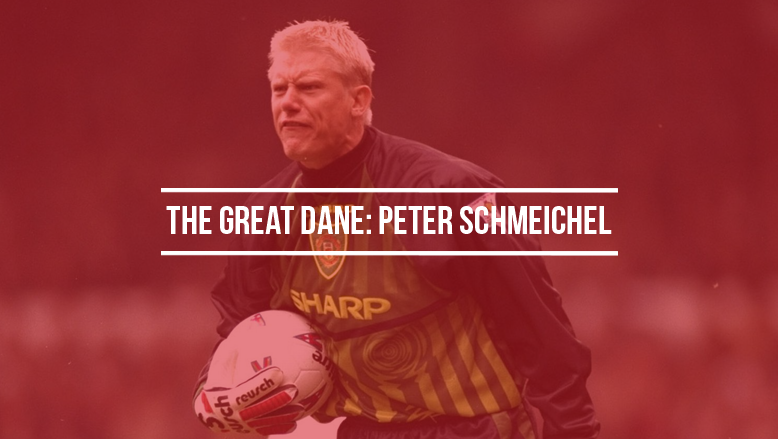 The great Dane: Peter Schmeichel
Peter Schmeichel is one of the best goalkeepers to have ever graced football; a model of consistency, a mountain of a man and comfortably the most successful goalkeeper of the modern era. He is well known for his performances for Manchester United, especially in the 1999 Champions League Final. He is also well remembered for his contribution to the national team of Denmark, helping them win the 1992 European Championship, a feat nobody saw coming and a tale which will forever be inplanted on footballing history. Known for his dominant physique and style, he would bark instructions to those around him, especially to teammates playing below their best. 
Manchester United fans always feel confident with Schmeichel in goal. Schmeichel really was the complete goalkeeper, giant, yet agility like a stray cat. His kicks were like rockets, his throws could easily reach the half way line; And he was a player which could walk into most dominant European sides. He was sharp, and cut an impressive, imposing figure.
Being voted at 'World's Best Goalkeeper' in 1992 and 1993 would have been no doubt one of the greatest accolades any keeper could receive but in an illustrious career spanning 21 years, this Danish keeper also made 129 International appearances for Denmark and also notching up an incredible 648 Senior career appearances too. It all started in 1981 when a young Schmeichel spent the first three years at Gladsaxe-Hero in the Danish league. A move in 1984 to Hvidovre and again to Brondby in 1987 meant that after 243 appearances in the Danish leagues and his performances for the National side, this 'Great Dane' landed in the premiership with Manchester United in a deal worth a valuable £500,000.
It was at United where he made his name for sure on the World stage. His sheer athleticism and bravery saw him pull off the most remarkable saves, making him a pivotal figure as United began to dominate English football.
His save against Rapid Vienna in the Champions League in 1996 was typical of his heroics – earning comparisons with Gordon Banks' legendary stop to deny Pele at the World Cup in 1970. But it wasn't only his shot-stopping that made Schmeichel so effective. His distribution of the ball, with his mammoth throws were key to so many break-away goals when finding the runs of Ryan Giggs, Andrei Kanchelskis or David Beckham. Then there was his tendency to offer his services up front in times of need; The Dane famously scoring in a Uefa Cup tie against Rotor Volgograd in 1995. Schmeichel's stature was immense as United won two league and FA Cup doubles, as well as the Treble in 1999.
By now 35 years old, the gruelling English seasons had taken their toll and Schmeichel decided to make a change, signing with Portuguese club Sporting CP. He went on to win the Portuguese Premier league with them, but did not stay for long, moving again in 2001. Instead, he remarkably returned to England where he signed for Aston Villa. That season, he befittingly became the first goalkeeper to score a goal in the Premiership, against Everton. His brief sojourn in Portugal over, Schmeichel remarkably returned to England with Aston Villa. However, the shock was still to come as, after one season in the Midlands, he signed with United's historic rivals, Manchester City. During what would prove his final season, he managed to keep a clean sheet in the Manchester derby and contributed to a famous victory for City. Despite such moments, Schmeichel finally called time on his career at the end of that 2002-2003 season.
They say there is only one position in a Manchester United Dream Team which is automatic, and that position is for Peter Schmeichel.
Along with the likes of Lev Yashin, Gordon Banks, Dino Zoff; Peter Schmeichel can truly be held in high regard as one of the best Goalkeepers to have ever lived. A terrific footballer on and off the pitch, he is held within the highest epitome in Danish footballing history, and is a legend for Manchester United. There is no doubt that he has left his mark on football.
---