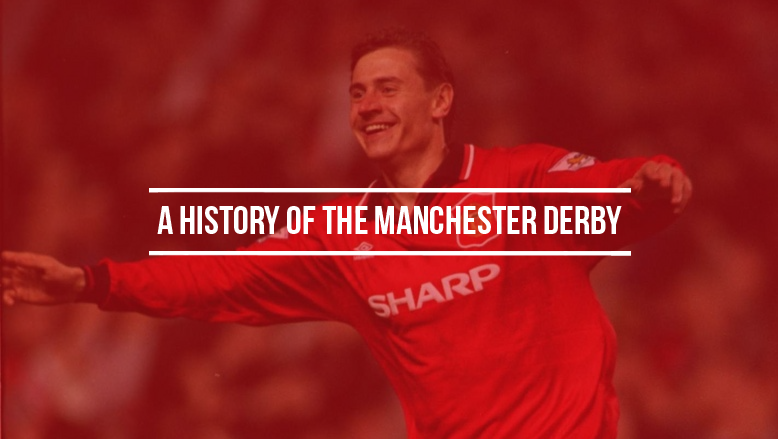 A history of the Manchester derby
Red or blue? It has been a question asked in Manchester for over 100 years now. From humble beginnings as Newton Heath and West Gorton, to the modern giants of United and City, both sides have been chasing the tag of Manchester's Finest.
Sunday's derby is likely to decide who has bragging rights in the city whilst also making a potentially significant impact on both clubs' chase of the pot of the Champions League money at the end of the rainbow. And another hard fought season.
For the first time in two years, it could be argued that Manchester City go into a derby as underdogs; a position they know all too well, having lingered in the shadow of Manchester United's trophy procession during the 1990s and 2000s. Abu Dhabi billions have shaken the natural order and not only put City back in a position that they haven't been in since the 1970s, but it has made Manchester the capital of English football. The Premier League trophy hasn't permanently resided outside of the city since 2010. And even then it only left it briefly. City's spending has meant, that alongside United of course, the top domestic title has been won by a side outside of Manchester only four times since the turn of the century. 10 titles in 14 years have ended up in the Etihad and Old Trafford trophy rooms.
Prior to the fortune City inherited back in 2009, United were more accustomed to battling the likes of Arsenal and Chelsea for silverware and the clash with Liverpool was the 'El Clasico' of English football. But the derby that settled local bragging rights in Manchester was still a game the people looked for. The matches arguable meant more to City, they had little else to celebrate at the time, and they certainly had the classic ingredients of a local derby. The form book went out the window and the unexpected was the norm. Who can forget Shaun Goater being the hero in 2002 as City won the final derby at Maine Road? United fans will be sure to want to.
Back before the national game was driven by money from foreign investors, in the 1960s, City and United battled for the major honours, with two of the city's finest collection of sides. The likes of Francis Lee, Mike Summerbee and Colin Bell were but three of the legendary players to grace a Manchester derby. They managed to lead City to major honours, famously pipping United to the 1968 league title on the final day of the domestic calendar.
Their domestic triumph was soon forgotten however when Matt Busby and his Manchester United team became the first English club to lift the European Cup. A momentous occasion which saw City's glory rather pale into insignificance. This feeling of being stuck in United's shadow has only added another dimension to a fascinating rivalry.
There is of course a long list of brilliant players, some who obtained cult hero status based on a moment of magic in a derby, and some who were simply heroic players, to have played in the fixture. I could write another article – or three! – on United players of significance. Bobby Charlton, George Best and Eric Cantona would all fit the bill. City have had a couple of the fine goalkeepers in Frank Swift and Bert Trautmann.
The first ever encounter been the two sides of Manchester was played way back in 1881. For this first ever derby match it wasn't United versus City but Newton Heath against West Gorton (or St. Mark's as they were also known). It wasn't even red versus blue but yellow and gold against the black strips of Gorton. This match, which the Heathens won 3-0, was not nearly as significant as it would later become. Both sides, at the time, were just two of a number of fledgling clubs based in Manchester. It wasn't until City became known as Ardwick in the late 1880s that the rivalry began to take on a more significant role in Manchester football with both teams regularly challenging for the Manchester Cup. Newton Heath or Ardwick won the cup between 1888 and 1893 showing their growing dominance of the local game.
City won the first derby match to take place in the top division of English football, beating United 3-0 in December 1906. The Blues were arguably the bigger club, having won the 1904 FA Cup, yet disaster was around the corner. A financial scandal of illegal back-pocket payments to players ended with seventeen of them banned from representing the club ever again. United profited the most from this, signing four of the suspended individuals. Two of those players, Billy Meredith and Sandy Turnbull, were to have a major impact on Manchester United becoming the top team in England.
There have been plenty of pulsating and nerve-jangling matches between the pair. Who can really enjoy a derby match? You only have so many fingernails to chew! In recent memory there have been some classic encounters, for all the right or wrong reasons depending on which side you look in from. City fans will point to a 5-1 mauling they handed out to their neighbours in 1989 or winning the first ever derby at the City of Manchester Stadium 4-1, in 2003. Of course for younger fans and certainly my generation, the 6-1 defeat suffered to City in 2011 remains a very, very dark day, one which we don't like to speak too much of.
But United have enjoyed some emphatic victories in recent times. A scintillating comeback from 2-0 down in 1993, orchestrated by Cantona and finished off by Roy Keane, remains a favourite. As is the 4-3 victory that redefined what was meant by 'drama' and made Michael Owen a folk hero at Old Trafford. There was also the 5-0 victory at the same venue in 1994, seen as revenge for the aforementioned 5-1 reverse, which saw Andrei Kanchelskis net a hat-trick and finally Robin van Persie's dramatic late winner at the Etihad in 2012 that was so satisfying, it would be crime not to mention it.
Some historically significant figures have represented both sides of the city with distinction. Ernest Mangnall managed both. Sir Matt Busby played for City, winning an FA Cup, before taking on the managerial reigns at United. And of course there is Denis Law, one of the finest strikers of his own or any other generation, who played for United and had two spells in blue. Not many men can score an audacious back heel to relegate your former club and still be adored by them! Law is one of the few who deserve to be in that privileged position.
Whatever happens on Sunday, you can be sure that the highly intense, exciting drama that has been a feature of many a derby, will be on show. The stakes are now even higher and it is a match watched worldwide but local pride is still at the heart of the derby. Let's see what colour this one paints the city.
---