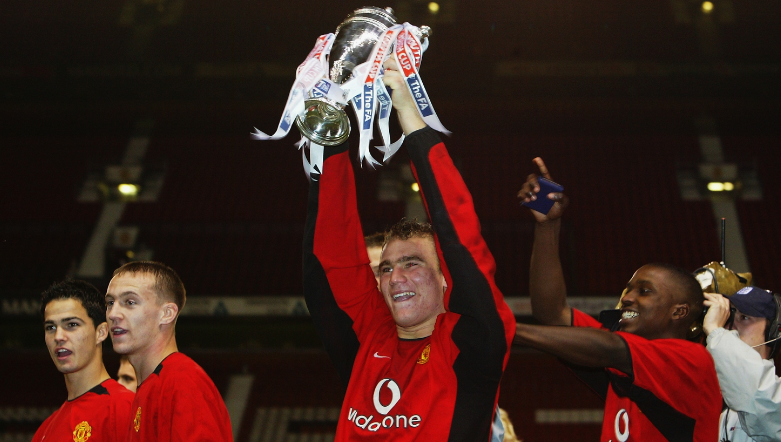 Whatever happened to the 2003 FA Youth Cup Winners?
United's triumph in 2003 was their 9th FA Youth Cup title in their history. Brian McClair, who has recently left his post of United's Director of Youth to become Performance Director for the SFA, lead his team to a 3-1 win on aggregate against Middlesbrough. United's 2-0 win at the Riverside Stadium took them into the second leg with a comfortable lead, as a 1-1 draw at Old Trafford was enough to secure victory.
First Leg – Middlesbrough 0-2 Manchester United
Goal Scorers – Kieran Richardson (MU), Ben Collett (MU)
Team: Luke Steele, Lee Sims, Lee Lawrence, Phil Bardsley, Paul McShane, David Jones (c), Chris Eagles, Kieran Richardson, Ben Collett, Mads Timm (Sylvan Ebanks-Blake), Eddie Johnson
Unused Subs: Tom Heaton, David Poole, Mark Howard, Ramon Calliste
Second Leg – Manchester United 1-1 Middlesbrough
Goal Scorers – Eddie Johnson (MU), Gary Liddle (MB)
Team: Luke Steele, Lee Sims, Lee Lawrence, Phil Bardsley, Paul McShane (Mark Howard), David Jones (c), Chris Eagles, Sylvan Ebanks-Blake (Ramon Calliste), Eddie Johnson, Kieran Richardson (David Poole), Ben Collett
Unused Subs: Tom Heaton, Phil Picken
Luke Steele
Goalkeeper Luke Steele joined his local club Peterborough at the age of 9, made his way up through their academy and made two first team appearances at the age of 17. United paid Peterborough a fee of £500,000, which would potentially rise to £2.25 million, as Steele signed a four-year contract.
He never made a first team appearance for United and was made part of a swap deal to bring in Tomasz Kuszczak, which saw Steele move to West Brom. He went on loan to Barnsley, where the move was made permanent at the end of the season, and had a very steady and consistent career since joining them, becoming their long-term first choice over the course of seven years. At the start of last season, he's become one of the few Englishman to play abroad as he signed for Greek club Panathinaikos, as a clause within his Barnsley contract allowed him to leave the club for free, following the clubs relegation to League 1. Since his departure he's been their first choice goalkeeper and has experienced European football.
Lee Lawrence
An injury that had occurred during a loan spell at Shrewsbury halted his progress and Lee Lawrence was released by United, never to feature in the first team. He has seemed to have dropped out of the professional game, as the most recent activity Lawrence has made was signing for Wigan Robin Park FC in 2010.
Lee Sims
Lee Sims' career has seemed to have taken a similar path to Lee Lawrence, as he's another one who has dropped out of professional football, as there is hardly any record of the defender signing for a new team after being released.
Phil Bardsley
After being promoted to the first team after the FA Youth Cup success, the Salford-born full-back made 18 first team appearances for United over the course of five seasons. He also had five loan spells away from Old Trafford, with five different clubs (Royal Antwerp, Burnley, Rangers, Aston Villa and Sheffield United).
He then made a permanent move to Sunderland in 2007 for a fee of £850,000, potentially rising to £2 million, where he played an important role in all seven seasons he had at the club, all featuring in the Premier League. The Scottish international is currently under contract with Stoke City after moving on a free transfer at the start of last season, due to his expired Sunderland contract.  
Paul McShane
Paul McShane never made a first team appearance for United, as he was loaned out (to Walsall and Brighton) after being given a professional contract. He was used alongside of fellow 2003 FA Youth Cup winner Luke Steele as part of a swap deal for West Brom's Tomasz Kuszczak. His short-term spells at West Brom and then Sunderland were prior to his long-term move to Hull City, were he was on their books for seven seasons, bouncing between the Championship and Premier League. The Republic of Ireland international is currently a free agent after his contract expired after Hull didn't offer a renewal.
Mark Howard
The Salford-born centre back moved abroad to continue his football career following his release from United. He achieved success with Danish club Brondby, as he won the league title during his second year at the club and won the clubs player of the year award in 2007. He had a stint at Danish club Aarhus Gymnastikforening beforemaking the move to Oklahoma City Energy and is now the clubs assistant manager, who play in USA's second-tier league USL (United Soccer League).
David Jones
The England Under 21 international has consistently featured across the Championship and Premier League during his career. The former youth team captain made four first team appearances for United, all of them coming in cup competitions. David Jones made a permanent move to Derby County in 2006 after a successful loan period, his third loan spell away from Old Trafford. He then played for Wolverhampton and Wigan, before joining current club Burnley. He was a first-team regular for the side who were unable to avoid relegation back to the Championship last season.
Chris Eagles
Chris Eagles' United highlight came when he scored his only goal for the Red Devils in a 4-2 win against Everton at Goodison Park. The winger made 17 first team appearances for United, and had four loan spells (two at boyhood club Watford, Shieffield Wednesday and Dutch club N.E.C), before making a permanent move to Burnley in 2008. He played at Turf Moor for three seasons before linking up with Owen Coyle once again, this time at Bolton. He was released after spending three years at the club. In November 2014, he joined Blackpool on a short-term deal, which lasted until January 2015. He then signed a deal with Charlton which lasted until the end of the season. The Englishman is currently a free agent.
Kieran Richardson
Richardson has arguably achieved the most success out of anyone from the 2003 Youth team, in terms of first team appearances at United, as he made 81 over the course of six seasons. He broke through into the first team, and became an important player during his last two seasons at the club. During his time at United, he made eight international appearances, along with two goals against the USA. He was sold to Sunderland for a fee of £5.5 million in 2007, where he spent five seasons. A two year spell at Fulham was prior to moving to his current club Aston Villa. He made 26 appearances this season, where he helped Villa avoid relegation and played in the FA Cup final, where they lost 4-0 to Arsenal.
Ben Collett
A career that was ended due to injury. Ben Collett was awarded £4.3 million in compensation due to tackle from Middlesbrough's Gary Smith during a reserve team match, which broke his leg. Alex Ferguson, Brian McClair and Gary Neville attending the hearing to give their opinions that Collett had the potential to become a regular first-team player at Old Trafford if it wasn't for his injury. His achievement of winning the Jimmy Murphy Young Player of the Year award for his 2002/03 season also showed the potential he possessed. The injury ultimately led to the end of his career and retired at the early age of 22. He studied at the University of Leeds as a journalist, to help start his new career.
Mads Timm
The Dane made his first team debut for United during a Champions League match against Maccabi Haifa in October 2002, but was unable to make his mark, as he spent time on loan at Norwegian club Viking and lower tier side Walsall. Mads Timm was jailed for 12 months in a young offenders institute due to participating in a high speed road race which injured two people in March 2005. Not too long after he finished his sentence, United released Timm, prompting his return to his hometown club Odense. He announced his retirement in 2009, but then restarted his football career, joining Kerteminde in 2011.
Sylvan Ebanks-Blake
The England Under 21 international only played two first games at United, scoring one goal, before being allowed to leave for Plymouth, for only £200,000. Wolves activated his buy-out clause of £1.5 million and stayed at the club for six seasons. His contract expired following the clubs relegation to League 1 and was reunited with former Wolves manger Mick McCarthy, at Ipswich town, signing a short-term deal until the end of 2013-14 season. He signed another short-term deal, this time with Preston North End. Following his release from Preston, after they secured promotion to the Championship, he is now signed on with Chesterfield, on a two-year deal at the club.
Eddie Johnson
Eddie Johnson had three loan spells (Royal Antwerp, Coventry City, Crewe Alexandre), whilst on the books at United. He was only able to make one appearance for United in a League cup game, before he was released. He then had spells at Bradford and Chester City before making a move to the United States. Johnson had two seasons at lower tier side Austin Aztec before having a brief stint at MLS side Portland Timbers. The Englishman retired three years ago but has now taken up a coaching career, as he's currently Dundee's under 20 manager.
Tom Heaton
Following his release from United after his eight year spell, never making a first-team appearance, he returned to Cardiff City, where he enjoyed his most successful loan period. He signed on a permanent basis, with a two-year contract. During his second season at the club, he found himself as the second choice behind David Marshall, so he rejected a new contract and left on a free transfer to Bristol City for first-team football. After a season at Bristol City, he joined Burnley where he helped them achieve promotion to the Premier League. However, his performances were unable to help Burnley avoid relegation back down to the Championship.
He was recently called up to the England squad for the first time in his career and has been linked with moves to Aston Villa and Southampton as both clubs are on the search for a goalkeeper. Brad Guzan is currently out of favour under Tim Sherwood, with 39 year-old Shay Given the only other first team option. While Southampton's Fraser Forster will miss the majority of the upcoming season with a knee injury.
David Poole
After failing to make an impression in United's first-team setup, he went on trial at Yeovil and signed for the club on a free transfer in 2005. After his first season at the club, he was sent on loan to Stockport, which was made into a permanent deal. The right-sided midfielder's last known season was playing for Hyde in the Conference Premier League in 2013/14.
Ramon Calliste
His was known as the "next Ryan Giggs", but was unable to live up to the comparison of the club legend. The comparison was bound to happen due to Calliste sharing the same hometown with the Welsh Wizard, as both were born in Cardiff. United felt that he had the potential, as they paid for a house for Calliste's family to live in, to help him settle in. United released numerous young players due to the FA's decision of changing the youth system from u17 and u19 leagues to a single u18 league. Ramon Calliste was one of them. Following his release from United, he made the switch to Liverpool, but also never made an impact on the first team squad. The Wales Under 21 international had spells at Scunthorpe, Farnborough and Cambridge City, before most recently been playing for West London Saracens, in the Middlesex County Division One West league, the 12th tier of English football.  
Phil Picken
The defender went on loan to Chesterfield whilst on the books at United and made the deal permanent following his release. He went on loan to Notts County, which coincided with his five year spell at Chesterfield, before making the move to Bury. He obtained injury setbacks, which ultimately led to him retiring. A knee injury he got in May 2013 would rule him out for the entire 2013/14 season, which saw the end of his professional football career. 
---